Notes from The Fay B. Kaigler Children's Book Festival at the University of Southern Mississippi
Notes from The Fay B. Kaigler Children's Book Festival at the University of Southern Mississippi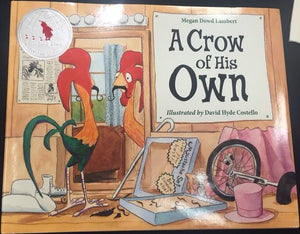 By Megan Dowd Lambert
A Crow of His Own. Text copyright © 2015 by Megan Dowd Lambert. Illustrations copyright © 2015 by David Hyde Costello. Published by Charlesbridge Publishing, Inc.
I've attended many conferences. Sometimes I attend as a speaker or trainer, sometimes as an award committee member, and sometimes I go to conferences for my own professional development and learning. After publishing my first books with Charlesbridge last year (my debut picture book, A Crow of His Own illustrated by David Hyde Costello, and my book about picture books, Reading Picture Books with Children: How to Shake Up Storytime and Get Kids Talking About What They See), I'm just getting used to attending conferences as an author.
I'm liking it!
April 6-8 I attended the Fay B. Kaigler Children's Book Festival at the Thad Cochran Center on the University of Southern Mississippi campus in Hattiesburg, where I accepted the Ezra Jack Keats New Writer Honor Award for A Crow of His Own. New Writer Medalist Don Tate, New Illustrator Medalist Phoebe Wahl, fellow New Writer Honor winner Julia Sarcone-Roach, and New Illustrator Honor winners Ryan T. Higgins and Rowboat Watkins were also recognized.
EJK Book Award Medalists and Honorees (from left to right): Julia Sarcone-Roach, Phoebe Wahl, Megan Dowd Lambert, Rowboat Watkins, Ryan T. Higgins, and Don Tate, #GetBehindPictureBooks.
What excellent company! For starters, I was the only person recognized who is not also a visual artist, so that kept me feeling mighty humble. I was delighted to meet all of these talented people and to hear about their work and their aspirations.
But, it was also a tough time to travel to Mississippi given the recent passage of House Bill 1523, which, in a nutshell, allows denial of services to LGBTQ+ people, based on religious convictions. I was still en route to Hattiesburg when author Lois Lowry gave her talk at the festival, but attendees told me that she spoke, in part, about her response to this law and another discriminatory measure in North Carolina. I was heartened by this news and also by the spirit in which it was shared with me. You see, I'd decided that I wanted to use my brief acceptance speech as a platform to put out a call for more representation of LGBTQ+ people in children's literature (Crow features a gay couple, Farmer Kevin and Farmer Jay, as secondary characters) but I wanted to do so in a way that would be heart-opening and affirming, not scolding. I didn't want to be like a houseguest who arrives and criticizes her host's furniture, but I knew I couldn't make myself at home at USM without saying something.
I had more time to think about my speech as I also attended other programs. A dinner hosted by Ellen Ruffin of the de Grummond Collection at USM gave me opportunities to chat with people from the Ezra Jack Keats Foundation, which is dedicated to "bringing the multicultural, creative spirit of Ezra Jack Keats into children's lives and literature." I then went to hear the Coleen Salley Storytelling Award Winner, Tim Tingle, and I was incredibly moved by his performance.
Tim Tingle's award-winning storytelling.
One story he told was based on his award-winning book Crossing Bok Chitto. Another was based on his Oklahoma Choctaw family history and the Trail of Tears. Although they carried different emotional tones, both included scenes of people walking along paths, and in my mind's eye I saw Keats's Peter making a path of footprints through the snow, and I saw myself, and everyone else in the room, on our own respective paths in our lives. That night, I returned to my room, inspired, and revised my speech.
The next day I was very fortunate to hear Deborah Pope, Executive Director of The Ezra Jack Keats Foundation, deliver the Centennial Ezra Jack Keats Lecture. She gave a marvelous overview of his life and career, sharing anecdotes from her family's personal relationship with him, brilliantly juxtaposing books from his career—I loved how she cited The Snowy Day and Clementina's Cactus as perfect bookends to his life's work: one a story about a boy and his mother in the winter at one end, and a story about a girl and her father in the desert at the other), and emphasizing his commitment to diversity in children's literature. Pope said that when she asked why he decided to depict a Black child in The Snowy Day, Keats responded, "Because he should have been there all along."
Dr. Deborah Pope delivering the Centennial Ezra Jack Keats Lecture.
Next, I was excited to hear Jacqueline Woodson speak as the recipient of the 2016 Southern Miss Medallion. She's been a favorite author of mine ever since I read one of her early novels, I Hadn't Meant to Tell You This, in 1996 as an undergraduate at Smith College in the children's literature class that prompted me to enter this field. Since then, I've shared her books with my children, taught them in my classes, welcomed her to speak at Simmons College, and have learned so much from her. As I sat at USM that day, I was so thrilled that she was receiving yet another well-deserved award for her truth-telling, heart-opening, gorgeous, powerful work.
2016 Southern Miss Medallion recipient Jacqueline Woodson.
Several years ago when I published my first essay in The Horn Book Magazine, Jackie wrote me an email in response, just to reach out and cheer me on in my effort to reflect on trying to find books about diverse family constellations like mine. Like hers. Her generosity moved me then, and when she spoke at USM about mothering, writing, reading, resisting, and yes, the hateful law passed in Mississippi, she emboldened me to get up and give my speech.
Excerpts from all of the Ezra Jack Keats Award speeches are posted on the
Keats Foundation website
and I encourage you to read them. They are heartfelt, warm, and loving offerings of thanks from a group of talented people striving to make good books for children.
I was especially moved by Don Tate's speech, which included a story about meeting some of the descendants of the subject of his book, George Moses Horton.
Ezra Jack Keats New Writer Medalist Don Tate.
For my part, I was proud to be introduced by K.T. Horning, a hero of mine in our field, and a person I enjoyed getting to know a bit better at USM. Then, Lois Lowry presented the award to me, and I had a moment of remembering adoring her books as a kid and wanting to go back in time to say to my ten-year-old self: "Anastasia's writer is going to give you an award. For writing."
Like the others who spoke, I did offer thanks, but I ended up saying: "Please, let's walk a path together toward a truly inclusive children's literature that will embolden, delight, inspire, and free all children as they realize the birthright of growing up to be exactly who they are." I talked about my own identity and about my family, and I talked about the need to move away from an all-straight world of children's books as surely as we need to move away from an all-white world of children's books. Read the whole speech here, if you'd like.
And after my speech, I sat down, feeling a little shaky, and Tim Tingle blew me a kiss, and Rita Williams-Garcia gave me two thumbs-up. And then people started coming up to me, there at the conference, and then at a book-signing, and there were hugs, and notes passed to me with coming out stories, and a grandmother buying my book for her grandbaby "because she has two mommies," and a woman buying my book and getting me to sign it for a young child who is transgender and whose parents are loving her through others' rejection and hatred.
The celebratory dinner in honor of Ezra Jack Keats' 100th birthday was a final chance for us to toast one another's joy in carrying on his legacy.
And I got to wear my fancy new shoes:
I was sorry to miss many of the other speakers while I was there (it was my first time away from my still-nursing one-year-old for more than a day, and I had to keep returning to my room to pump—no fun!), but I did get to say hello to Melissa Sweet, George O'Connor, and Joyce Sidman. When I got home, I had a lot of new books, and many thank-you notes to write. It was a powerful, humbling, thrilling few days, and I am so very…honored!
  Megan Dowd Labert is a senior lecturer in children's literature at Simmons College, where she earned her master's degree in children's literature after completing a B.A. at Smith College. She writes for The Horn Book Magazine; served on the 2011 Caldecott committee; and worked at the Eric Carle Museum of Picture Book Art for many years, leading Whole Book Approach storytimes and training others in her methods, which inspired the publication of her book Reading Picture Books with Children: How to Shake Up Storytime and Get Kids Talking about What They See.