Charlesbridge Celebrates National Library Week
Charlesbridge Celebrates National Library Week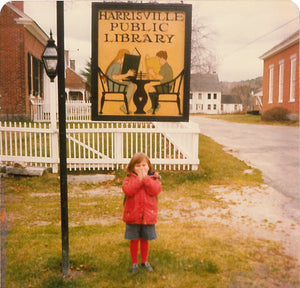 (Austrian National Library, Hofburg Palace)
In the words of iconic actress Katharine Hepburn, "What in the world would we do without our libraries?" At Charlesbridge, we couldn't agree more! So in honor of National Library Week this year with its theme of "Libraries Transform," we wanted to share our favorite things about libraries with all of you:
My favorite thing about libraries is wandering. I used to be a student worker at my college library's circ desk and I loved shelving because it would take me to areas of the library I wouldn't normally go to. I brought home five new books to check out and look at every time. —Lauren Barrett, Sub-rights Coordinator/Associate
I absolutely love the atmosphere at any library—a quiet mix of curiosity and relaxation! I also appreciate creative book displays and the general convenience of borrowing physical and audio books. —Julie Bliven, Editor/Contracts Manager
When I walk into the BPL Connolly Library in Hyde Square in Jamaica Plain, I'm always struck by three things: 1) the physical beauty of the building, 2) the vast and beautiful diversity of the patrons, and 3) the various activities going on. From youth tutoring programs to computer terminals for teens and adults, from Boston City Council hearings hosted in the basement auditorium to the slew of kids on the floor surrounded by picture books, to an enormous Spanish section to the bilingual staff, my branch library is a gift to the community and a hub of activity. Libraries across the United States fill more roles than any one person can imagine, and their importance can't be overstated. ¡Viva la biblioteca! —Karen Boss, Associate Editor
(BPL Connolly Library, Hyde Square, Jamaica Plain, MA)
Libraries are my happy place. When I walk into a library, the aroma of books both old and new hangs in the air and I feel like I'm home. I enter ready to embark on new adventures, to crack open spines and sift through pages, hoping to find my next favorite read, and before I know it, I've been wandering among the stacks for hours and enjoying every minute! I'm not in a rush at the library, I can slow down and let my eyes take in every inch of the shelves, it allows me time and peace as I peruse. I love libraries because that's where I go to relax and stumble upon new characters. I always end up leaving with a huge stack of books in my arms, ready to jump head-first into each one, but wondering how I'll ever have time to read them all! —Rachael Doody, Sales and Marketing Assistant
I've found myself using the library more than I ever have and it's due to my two-hour daily commute. I have been checking out books-on-CD in order to take a break from the commercial-filled radio stations. Listening to books helps tune out the traffic and makes my daily commute less stressful. —Tracy Fournier, Accounting Manager
Libraries hold secret treasures. Like many kids, I fell hard for fantasy: Tolkien, Lewis, LeGuin, McKinley. But I didn't know there were other people who liked that stuff; everyone I knew just looked at me blankly when I talked about it. The library didn't judge me, though. There was a whole section of fantasy! I was obsessed with one gorgeous, oversize book, The Flight of Dragons, and kept borrowing it over and over again. Part of me daydreamed about stealing it—just slipping it out the window. Who was reading it besides me, anyway? But I never did, and I like to imagine that in the decades since, many other misfit kids have discovered and cherished that book—and other library treasures. —Alyssa Mito Pusey, Senior Editor
Libraries have always felt welcoming to me. I love the way they smell. I love to wander the aisles, run my fingers over the titles, and select anything that pops out at me. Usually, the thicker the better. In larger or university libraries, I can't resist pulling the leather-bound books off the shelves that send the dust flying, to delightedly discover that the book was published in 1876. Who could have read it before me in the last century and a half? I miss the days of the paper checkout slips because you'd be able to see how long it had been since someone checked out that particular book—imagine, this was last borrowed in 1954! But whatever I discover, or whatever the reason I find myself in a library today (which often now is to work peacefully on my laptop), I always feel right at home. —Monica Perez, Executive Editor at Large

I love that libraries are not just about books, but about communities. From the staff to the patrons to the people in the parking lot, libraries are full of fellow book and content lovers, connecting folks from all around town with events, resources and good reads. —Megan Quinn, Senior Director of Sales
A library is a great equalizer, providing everyone with access to the information and books they need or would like to read and that they may not otherwise be able to get. It contains a vast wealth of knowledge in one inviting place that we are lucky to be able to visit whenever we want. And I LOVE being around all those books! —Cynthia Ritter, Marketing, Publicity & Promotions Assistant
I enjoy making a lot of noise at the library. I like to drop books on the floor. BAM! I love how it echoes throughout the building! I also like to ask the librarian questions from thirty feet away. "Hey! Where can I find a book on etiquette??" Other things I enjoy doing at the library: whistling, wearing squeaky shoes, and reading out loud! "SAY! I do like green eggs and ham!" Libraries are fun! —Bob Sammartino, Accounting Director
I have always loved the experience of walking into a library, finding something that interested me, and sitting down to read for hours. When I was a kid, my mother had to call the town library and ask the librarian to send me home for dinner. —Martha Sikkema, Senior Designer
I'll never forget signing my name on my first library card. I knew I had experienced one of the great watershed moments on the path from childhood to adulthood. Choosing my own books each week at the public library was perhaps THE most important way that I began to shape my own destiny and my future grown-up self. I'm lucky I had both a mother who encouraged this and a school system that supported my early reading habits—but I also needed libraries and librarians to light the way. That great partnership between families, schools, and libraries is critical to every child's success. —Yolanda Scott, Associate Publisher/Editorial Director
(Little Yolanda, November 1977)
[To the tune of "My Favorite Things"]
Words on bright pages
With illos and gate folds
Couches for reading
New arrivals and place holds
Stories of heroes and villains and kings
These are a few of my favorite things
(About the library).
—Donna Spurlock, Director of Marketing
What's your favorite thing about libraries? Share in the comments below!