How Do Babies Learn Best? Focus on FUN!
How Do Babies Learn Best? Focus on FUN!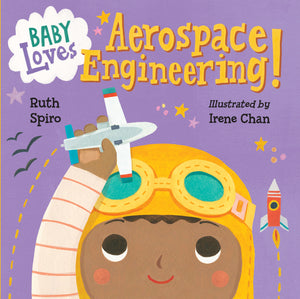 by Ruth Spiro
As author of the Baby Loves Science books, my goal is to help make complex science concepts accessible to everyone, and also share ideas about how parents and caregivers can turn everyday experiences into learning opportunities for their little ones.
Among the many hot topics in education today, "STEM" seems to be leading the pack. Incorporating more Science, Technology, Engineering, and Math (STEM) into school curriculums has been recognized as a priority, and that's great. But many professionals believe that in order to prevent achievement gaps down the line, STEM education should begin earlier—with infants as young as six months old.
But aren't babies and toddlers too young to understand science? Surprisingly, no. In a recent study at Johns Hopkins, researchers showed eleven-month-old babies "tricks" in which a toy seemed to defy gravity. The babies showed a keen interest—their surprise and extended attention was an indication they already have an understanding of basic physics. In other studies, research has shown that early introduction to STEM activities helps develop motor skills, reasoning ability, and even problem solving.
From Baby Loves Quarks! Text copyright (c) 2016 by Ruth Spiro.
Illustration copyright (c) 2016 by Irene Chan.
But there's no need for flash cards or formal instruction—especially not for babies! Instead, focus on having fun while adding some beneficial activities to playtime:
Talk: Name objects, gesture, and describe what you're doing to grow vocabulary.
Sing and clap: A sense of rhythm helps with language acquisition.
Count, match, and sort: These activities lay the foundation for early math.
The simplest way to find resources for all these activities is within the pages of picture books. The American Academy of Pediatrics recommends that parents read with their child every day, and it's never too early to start. Even the youngest infant will benefit from hearing the sound of your voice and the rhythm of the language. As you read the Baby Loves Science board books, name the colors, shapes, animals, and other familiar things you see.
Reading together also helps develop STEM-related skills. Hearing the parts of a story—beginning, middle, and end—lays the foundation for understanding sequencing, important in math and science. Making predictions about what will happen next in a story is also excellent practice for later success in science, technology, and engineering. Asking fun questions such as "What do you think will happen when Bird flaps her wings?" is a great place to start.
From Baby Loves Aerospace Engineering! Text copyright (c) 2016 by Ruth Spiro.
Illustration copyright (c) 2016 by Irene Chan.
As your baby grows, model a love of learning by sharing observations and asking questions about things you see every day—in your home, on a walk, or even in a book. Explore the world along with your child, and have fun making discoveries together!
Ruth Spiro's debut picture book, Lester Fizz, Bubble-Gum Artist, was a Bank Street College of Education Best Book of the Year. The first two books in the Baby Loves Science series are Baby Loves Aerospace Engineering! and Baby Loves Quarks! She lives in Chicago, Illinois.
Save
Save
Save