David L. Harrison wins the Society of Midland Authors Book Award
David L. Harrison wins the Society of Midland Authors Book Award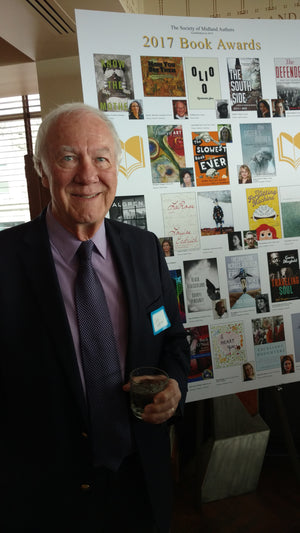 I just returned from Chicago and the 2017 Book Awards banquet and ceremonies, which was sponsored by The Society of Midland Authors. Wow! What a party! I was there to receive the award for the best nonfiction children's book by a midland author published in 2016, Now You See Them, Now You Don't. Yay, Charlesbridge!
The event was held on the penthouse floor of this building.
Talk about ambience! Master of Ceremonies was Keir Graff, Executive Editor for Booklist.
And here I am giving a few remarks after receiving my award.
The Society of Midland Authors was established in 1915 by a group of authors that
included Clarence Darrow, Edna Ferber, William White, and James Whitcomb Riley. Others who soon joined included Ring Lardner, Edgar A. Guest, and Carl Sandburg. Over the years the list of those who have been honored for their books is long. I noticed that among them was Kurt Vonnegut, which brought back memories of a workshop I took under him at Indiana University one year.
I had a delightful time being among the six winners honored at this year's event (adult fiction, adult nonfiction, adult biography & memoir, adult poetry, children's fiction, and children's nonfiction). I posed, signed books, visited, and basically soaked it all in. The event was made even better with my wife, Sandy, daughter, Robin, son, Jeff, and family friend, Jason Gertzen there to celebrate the special occasion.