Board Books – A Head-start for Babies
Board Books – A Head-start for Babies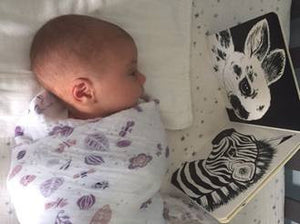 Author-illustrator Phyllis Limbacher Tildes reminisces on her motivation for creating board books for babies and her own personal connection to educational reading.
In my twenty-two years with Charlesbridge, I have been fortunate to have authored and/or illustrated twenty-three books. Perhaps the most gratifying have been my baby board books. What a thrill it has been to know that infants as young as two weeks old are introduced to an interactive experience with their parents through my illustrations and simple words.
Baby Animals Black and White has been continually in print since 1998. I believe it is in its 25th printing. Many parents and grandparents supply me with photos of their babies excitedly engaged with the graphically illustrated images of cute animal baby faces. These pictures often show loving and intimate interactions between infant and adult. I have even seen a video of a baby doing a fast belly crawl to reach an open copy of the book.
It has long been established that infants respond to bold images, especially faces, because they can stimulate eyesight and brain development. I always include human babies in the last spreads of my board books about animals. In one of my newest books with Marsha Diane Arnold, Baby Animals Take a Nap (which is in color!), I actually illustrated my son Jeff holding a sleeping infant. Two months after the release of the book I learned that I will soon be a grandma and he will be holding his own baby boy! I can't wait to be able to read my very own books to him.
Many people have told me that my black-and-white Baby Animals series – comprised of Baby Animals Black and White (1998), Baby Animals Spots and Stripes (2015), and Baby Animals Day and Night (2016) – is a good gift choice for a baby shower. Through a local charity called The One Hundred, one of these three titles is always included in their "baby bundles," which are given to newborns at Memorial Hospital where I live in Savannah, Georgia.
Certainly my own experience as a child, as well as my son's was enriched by books. But that is not the case for many children whose own parents never had that kind of childhood. Because of my interest in engaging children at an early age to the magic of books, I have begun to volunteer with a wonderful local organization, Savannah Early Childhood Foundation. Quoting their President, Paul Fisher, "SECF is partnered with Parent University to create a special module called Early Learning College. This parent-centric program is designed to enhance parenting skills for caregivers of children from birth to three years old, a time when research shows the vast majority of brain development occurs. The goal is to improve a child's school readiness by teaching their parents how to create safe, nurturing, language-rich environments during this critical stage of life."
These classes are held at elementary schools in various neighborhoods in and around Savannah. As the word has spread, these offerings have become popular and the attendance continues to grow. Parents and grandparents bring their children, and childcare and lunch are provided. I have entertained the children with my own interactive program, reading my books and providing drawing demonstrations. I was pleased and surprised when Savannah Early Childhood Foundation purchased many of my books to be used in baby showers they have for expectant parents. I look forward to helping out in the fall in whatever capacity they feel they can use my talents. I hope to instill a sense of wonder and discovery with my books and those of other favorite authors. Perhaps these parents will hear their children say, "One more story, please!"
Purchase Phyllis' books for your readers today!